Because I haven't posted in so long and because I love reading other peoples answers its only fair that I answer them too...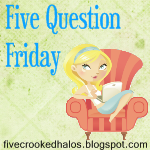 1. Who would you want to play you in a movie of your life? Ok so Candice Cameron when she was chunkier. I actually used to get told all the time when my hair was lighter and I was too that I looked like her. I even had to correct a few people in New York that wanted an autograph 10 years ago..I think it had something to do with dark sunglasses a fancy outfit and standing outside of a limo waiting on my mom so we could get driven back to the airport.
2. Did you ever go to summer camp? No way. I love to camp but the whole thing about once you get there you are there totally bothered me. I don't like to be stranded anywhere period...I know for a fact if I had went and wanted to come home my mom would have just told me to suck it up!
3. What sends you running and screaming in the other direction? Snakes I hate hate hate snakes.
4. What is something you do that drives your spouse nuts? I never sing the lyrics to any song right...I always make my own up because my version is better...lol.
5. What is currently your favorite song? Shamman Dragonfly is today but yesterday I was listening to the Zack Brown band all day then the day before I was listening to Elvis...so I guess it depends on what day it is.