I have wanted to learn to sew for a long time. I actually bought a sewing machine about 5 years ago....and it sat in the box for almost 5 years...except for a short 30 minute session of practicing on scrap fabric and flipping out because I am not I repeat not good with anything that has working parts...I mean seriously...I use a mixer and a food processor all the time...Do you want to know how many times I have cleaned cake batter off the walls, me , my kid, and anything else near by?...I can operate a mixer I just have technical difficulties. As far as the food processor goes its touch and go sometimes....I get it to work and do what I want but thankfully it has all those safety features that are probably the only reason I still have all my fingers. I quilt and have quilted for years...guess how I do it...By hand...why? because I was scared of that machine. (to clarify all the quilts I have done are very simple patterns basically just blocks I have arranged in different sizes) The urge to sew has gotten stronger and stronger. I have read so many blogs that show how to sew or what they have made and I thing that is what finally gave me more confidence. I wanted to face my fear head on...I mean its just a machine....so with courage I got the phone book out and found a lady offering sewing classes...lol. She allowed me to bring my machine so that the beast and I could become friends. Last week was my first class and the beast and I are on talking terms...we are working on having a relationship. My husband is always supportive so he surprised me with a beast carrier...so I can lug beast safely to and from the classroom. Then because my husband is one of those men he got me a tool box with lots of sewing gadgets...that I will probably hurt my self on...but I am determined to learn to sew. I don't technically get to sew in class till tomorrow..but I was dying to do something now. I have surfed the net for weeks seeing things I would like to do. Then today I knew. I wanted to make a hooded towel for my son. Of course once I knew what I wanted to do cable went out which means Internet went out and I was left alone wanting to sew and no tutorial to make it better. So I winged it. This is hooded towel...my way (not the right way probably but it worked for me) Since I finally made something I finally get to play along with so many of the creative blogs I have found check out the bottom of the post for links to find inspiration for you next project.

What you need:

1 washcloth
1 towel
thread
pins
1 beast (or whatever you call your sewing machine)


First take the wash cloth and pull to corners to the center and pin them together like this




I just did a straight stitch from the bottom to the top point. I pulled the pins out as I went and back stitched at the beginning and end. Next I pinned the hood to the towel part. I made sure to center it.




Again I just did a straight stitch from one left to the right and made sure to back stitch at the beginning and end. It ended up so cute and I was so proud of myself I made another one. In pink this time to give to my niece this Saturday as part of her birthday present. Now this may not be the absolute correct way to do it but it worked for me. It also gave me the confidence that I needed and beast and I are on our way to being besties for sure.. Check them out. My model is currently asleep for the night and I did not have a chance to take a pic of him in it. I made the brown first and pink second...Total time it took for both was less than an hour!! I can only imagine how much this will cut down on my quilting time!













Since I finally made something I finally get to play along with the look what I made day at Creations by Kara! Check the post out and see what all the other crafty people have been up to!







I have to get in on the fun over at
Fireflies and Jellybeans
too. For more of a creative fix head over there and check everyones out too!!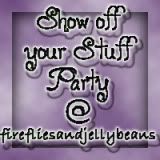 Check out the Strut your Stuff party over at
Somewhat Simple
there are so many creations to check out there too!
Tater Tots and jello
also has a Weekend wrap up lots of links!