So this weekend was my niece's birthday party. My sister actually drove in from out of town to throw the party so it could be with family. She lives in North Carolina and we don't get to see each other a whole lot. A few times a year really at most. When my nephew was born 9 years ago (wow time really goes fast) she lived basically next door so we seen each other all the time. I got to watch my nephew grow up. It makes me really sad that I don't get to see my niece like that. Anyways it was never set in stone a certain date that she would be coming so I slowly just started gathering stuff that I would put together a gift bag for her birthday. Thats my favorite thing to do for kids. I don't like to give them one big gift I like to give them several smaller gifts. I had already gotten a few things together but needed a few more...So on Friday night I got inspiration for what I wanted. My timing is always off so wouldn't you know it that it was snowing and looking pretty ugly out there...for North Georgia snow tends to set off a panic...What I mean by that is that you can't get a loaf of bread or a gallon of milk without a fight. I have never understood that either because if it snows and your trapped in a gallon of milk won't last long unless you can keep it cold...because a good rainstorm around here knocks the power out so if you just say "SNOW" the power goes off. I know you can put it outside and all but the first thing I think of if I know I won't have power is...cans of soup or snacky junk food...because worse comes to worse you can heat a can of soup in a stoneware mug over a candle flame....at least it worked for me. (Drastic times called for drastic measures when your 13 and dramatic on top of it all) So here it was Friday night snowing and the party was Saturday afternoon. I get in my car and head to hobby lobby and buy some fabric. Then I head over to Walmart and buy a T-shirt. I came home and did lots of research online. I used a tutorial on ~Ruffles and Stuff~ . and I was able to make this.




I will be honest. It did not take me the 15 minutes it took her it took me 5 hours. I will tell you why though. I don't know what I am doing...lol. I have never sewed on jersey for one and I have never used a zigzag stitch.... I have never measured fabric for a specific size and cut it out. I finally figured out what a seam ripper was for...especially since I had to use it and rip out every stitch I had done more than once. One of the times I had to do that was because I did not sew the rightsides together... So when I flipped it out the tag was on the outside and in front. It was a learning experience. I know now more about sewing than I did. I learn more everytime I make something. I am slowly but surely losing my fear of sewing. When I finally got it done and got it finished I felt on top of the world. I have never felt like that after a craft. I think it was because this was something I had to work at... I mean really work. I had to figure out how to set my machine and then I had to thread and re-thread it everytime I messed up. I had to use the seam ripper and take out all my mistakes. I am not saying that all my other crafting times I have not had to work at...I do I work on all my crafts but I usually am able to master most of them quickly. Sewing is a whole new ball game for me. I also think it made me feel so good because I did not give up when it got really difficult. I could have put it down and said I will do this later...then I may or may not have ever finished it. I didn't do that though I told myself over and over..."you can do this you can figure this out"...and I did do it and I did figure it out. I thought that after that initial burst of happiness with the dress I would never feel that satisfaction again at least until the next project...but I was so wrong. It doubled when I saw this.




She played in it all evening and then she had to sleep in it because she loved it so much...Now I can't wait for my next project!


I wanted to share my project over on Sumo's Sweet Stuff. Go check out the post for lots of links and see what everyone else is creating.









I also finally get to participate in Kindred Spirit Mommy's Creative blog hop! Head over there for even more links to check out.





I needed a little craft therapy and found it at Life in the Pitts! Check out some of the links there if you need craft therapy too!


Someday crafts
just started a party check hers out!
I'm also joing Kara for look what I made day
!
I am also link up with
Fireflies and Jellybeans
to Show off my stuff!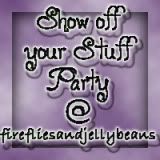 If you like crafts you can make an wear check out this post on
The Train To Crazy
for links.
Everything etsy
is also having a linky party for things you have made and since I made this I qualify...yay! Head over and check out some more cool projects people made!

My last link up for this party...because I love her site so much check out
Tatertots and Jello
and you can see her linky party for her Weekend Wrap Up Party!